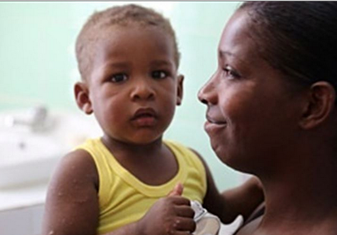 A sense of pride and peace of mind were experienced by Cubans on hearing that the World Health Organization (WHO) and Pan American Health Organization (PAHO) had certified the elimination of mother-to-child transmission of HIV and syphilis on the island.
Experts from several countries conducted a simultaneous validation process in the provinces of Havana, Villa Clara and Santiago de Cuba, visiting hospitals, polyclinics, laboratories, maternity homes and other health care facilities, to verify the efforts undertaken in the prevention of these diseases and evaluate the indicators.
Amongst the required validation indicators: the vertical transmission rate of syphilis must equal to or less than 0.5 per thousand live births while for HIV less than 2%; more than 95% of pregnant women should be receiving the necessary care and antiretroviral drugs; more than 95% of pregnant women should be tested for syphilis; and the system for collecting statistical information and reporting cases must also be taken into account.
The findings of the validation process were made public in Washington on June 30, at the PAHO headquarters, certifying Cuba as the first country in the world to have eliminated mother-to-child transmission of HIV and syphilis.
"This Caribbean nation has followed the strategies that have been proposed for treating both HIV and syphilis in pregnant women, an achievement that should be celebrated and further evidence that the Cuban health system works," Dr. José Luis Di Fabio, representative of the PAHO / WHO in Cuba, stated.
The official explained the different phases of the validation process to the press gathered in Havana: "The experts verified that Cuban women receive more than 10 consultations during their pregnancy and health institutions provide HIV/syphilis testing, with competent laboratories to ensure correct results, a model for other countries."
Meanwhile, Anna Lucia D'Emilio, representative of the United Nations Children's Fund (UNICEF) in Cuba, stressed the need to maintain these achievements and insisted on the importance of prevention measures and information, aimed principally at adolescents.
"We know from surveys conducted here, reporting that a third of young people aged between 15 and 24 initiate their sex lives without using any protection, in addition, 60 percent of respondents in the same age range do not know how to correctly identify two means of HIV transmission. That tells us that despite the efforts of the Ministry of Education to include these topics in educational programs, young people at the time of making the decision to become sexually active still fail to apply the received knowledge," she explained.
The UNICEF official appealed to the media to work together to broadcast messages which impact on the youth sector in order that "every adolescent in the country knows exactly how to protect themselves and protects themselves effectively."
Both officials agreed that Cuban society is well organized in regards to strategies to ensure the health of its population and that these represent achievements of the Revolution.
 Joint PAHO / UNICEF Statement
"This is a historic day for the prevention of HIV and AIDS and progress towards a generation free of this virus at the national and global level," read a joint statement from the PAHO and UNICEF issued this June 30.
Cuba has achieved a mother-to-child HIV transmission rate of 1.85%, below the regional average, and below the target of 2% agreed by countries; an achievement made possible thanks to the efforts of the Cuban State in different types of intervention, such as ensuring prenatal care, with an average of 10 consultations for each pregnancy, births in institutions with qualified personnel, and serological testing for HIV during pregnancy, as well as active monitoring of HIV-positive pregnant women or those with syphilis, and access to antiretroviral treatment as established by international organizations, the statement noted.
The document highlights that great progress has been made in eliminating of mother-to-child transmission of HIV in Latin America and the Caribbean. In fact, the regional rate of transmission has decreased from 18% in 2010 to approximately 5% in 2013, thanks to measures to increase HIV testing and expand access to antiretroviral treatment.
"With this validation, Cuba has set a great precedent and shows that progress towards a HIV-free generation is possible. Eliminating vertical transmission is a decisive and important step," the statement highlighted.